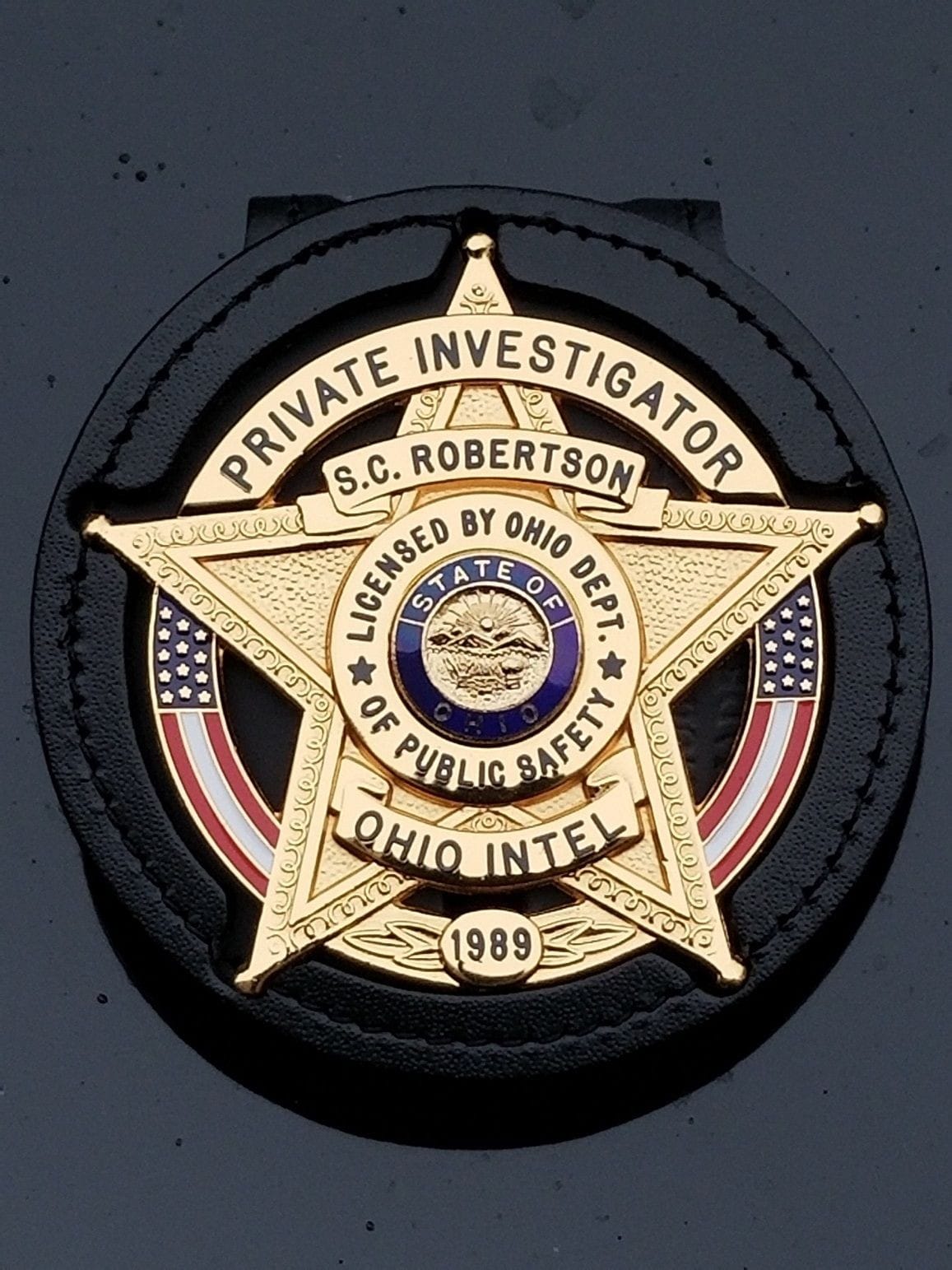 Background Investigation - Information Services - Locate People, Assets
Scott C. Robertson, a Licensed Private Investigator in northeastern Ohio has been providing background investigation services to law firms, private citizens, and the private business sector since 1989. Scott has also served as a deputy sheriff and a police officer in the State of Ohio.
Over the years Scott has established a network of investigative databases, and human resources, throughout the State of Ohio, the U.S. and abroad for the purpose of developing the most current and accurate information available to the private sector regarding people, businesses, court records, and assets.
Assisting private citizens, legal professionals,
small business and corporations
in regards to their legal matters with locating people, and developing information such as the subject's current address, information regarding family and associates, and obtaining information regarding their immediate assets such as real estate ownership, motor vehicle titles and motor vehicle registrations.
Debt Collection - Skip Tracing
- the client must provide a copy of the court ordered judgment. Ohio Intel specializes in developing information regarding people and their location - current address and physical assets.
On occasion, physical
surveillance
is utilized for the purpose of verifying information that is developed throughout the course of a background investigation. Background information may also be obtained during the review of a
death investigation
, for the purpose of assisting employers with
fraudulent injury investigation
, and in some circumstances during
marital infidelity
cases, or other domestic related matters such as
alimony fraud.
Upon completion of each background investigation - informational assignment, clients are provided with a written, Background Investigation Report.
Background Information Resources include:
Nationwide Criminal Record Search
- covers criminal charges, nationwide, that have been filed - felony and misdemeanor, including traffic violations - and case dispositions; criminal and misdemeanor convictions.
Information received usually includes, but is not limited to: the jurisdiction in which the case was filled, the case number, date filed, the criminal charges - offenses, the case status and - or final disposition. This inquiry may also provide criminal warrant information.
Civil Court Case Record Search
- divorce cases, civil law suits, liens, judgments, equitable claims, class action law suits, contract and property disputes.
Probate Court Case Record Search
- marriage licenses, wills, guardianships, the distribution of an estate; inventories of the estate, names of family members, heirs and guardians, information regarding beneficiaries and executors.
Federal Bankruptcy Case Record Search
- financial details and pertinent information regarding corporations, small businesses and people who have filed for bankruptcy. The bankruptcy case information may include; the debtor's gross income and employment information, assets; real estate ownership, investments, banking formation, a list of creditors and the amount of money owed to each creditor.
Investigative Database Inquiries
- p
rior to initiating a private investigation - field assignment, investigative database inquiries are conducted for the purpose of developing information regarding the subject of the investigation.
Investigative database information is also utilized to assist private clients, business owners, and attorneys in their legal business matters. Information provided as a result of these database inquiries include;
Identity Verification
- verifies that the individuals name matches up with the date of birth and Social Security Number that has been provided.
Current Address & Address History
- provides current, previous and historic addresses that are associated with the subject of the investigation.
General Background Information
- professional licensing information and status, residential and non-residential addresses that the party is affiliated with, possible landline and cellular telephone numbers, email addresses, the names of family members and associates - past and present, the names of persons possibly residing with the subject at their current residence, or the names of persons affiliated with that location, current and expired Motor Vehicle Registration information.
- A legal justified purpose for obtaining personal information on an individual through investigative database inquiries is required as described here; during the process of a criminal investigation, in support or defense of a civil, probate, or criminal court case, in anticipation of civil litigation or for the pursuit of legal remedies, or in regards to a court judgment for the purpose of attempting to collect a debt or security interest.
Information obtained from investigative database inquiries may be subject to further verification.
Missing Persons Investigation
Missing persons are a diverse category of people who disappear - "go missing" for a variety of reasons. Based on my experience, family members are often not aware of all of the circumstances that led up to another family member's disappearance.
It is paramount to the missing person investigation that the family members and friends of a missing person divulge all known activity and behavior regarding the missing person when questioned by a private detective.
Some of the reasons that I have encountered as to why people become missing:
Rebellion - non-compliant with parental rules, wanting to be independent, responding to peer pressure, distraught over a family dispute, a conflict with siblings, an issue with a significant other.
Avoiding Negative Situations - such as financial difficulties, the collection of a debt, repossession of a motor vehicle, civil litigation matters, domestic problems within the home, a criminal warrant or civil summons.
Medical Conditions - dementia, or adverse reactions to particular medications or other medical conditions; not able to remember dates, times, people, or plans for engagements, not answering the telephone or visitors at their door, unintentionally and unknowingly wandering away from their residence, or a change in a pattern of their daily activities that is out of the ordinary for their usual behavior. Drug and alcohol abuse.
Ohio Private Investigator - private detective agency service area for background investigation
includes the following locations; Akron, Alliance, Amherst, Apple Creek, Atwater, Austintown, Avon, Baltic, Barberton, Barnhill, Bath, Bay Village, Bazetta, Beachwood, Bedford, Beloit, Berea, Boardman, Bolindale, Bolivar, Boston Heights, Brady Lake, Brimfield, Brecksville, Brewster, Briarwood, Broadview Heights, Braceville, Brooklyn, Brookpark, Brunswick, Burbank, Campbell, Canfield, Canton, Center World, Champion Heights, Charlestown, Churchill, Chippewa Lake, Cleveland, Congress, Conventry, Copley, Cortland, Craig Beach, Creston, Cuyahoga Falls, Dalton, Deerfield, Dennison, Dover, Doylestown, Eastlake, East Sparta, Edinburg, Elyria, Euclid, Fairlawn, Fairport Harbor, Fairview Park, Franklin, Fredricksburg, Freedom, Garfield Heights, Garrettsville, Girard, Gloria Glens Park, Gnadenhutten, Grafton, Green, Greentown, Grand River, Hartville, Highland Heights, Hiram, Howland, Hubbard, Hudson, Independence, Kent, Kipton, Kirtland, LaGrange, Lakeline, Lakemore, Lakewood, Leavittsburg, Lodi, Lorain, Lordstown, Louisville, Lowellville, Lyndhurst, Madison, Magnolia, Manchester, Mantua, Maple Heights, Marshalville, Mayfield Heights, Massillon, McDonald, McKinley Heights, Medina, Mentor, Mentor on the Lake, Midvale, Middleburg Heights, Mineral City, Mineral Ridge, Minerva, Mogadore, Mount Eaton, Munroe Falls, Navarre, Nelson, Newcomerstown, New Middleton, New Philadelphia, North Lima, North Olmsted, North Perry, North Randall, North Ridgeville, North Robertsville, North Royalton, Norton, Newton Falls, Niles, Oberlin, Orangeville, Orrville, Painesville, Palmyra, Parma, Parral, Penninsula, Pepper Pike, Perry, Poland, Port Washington, Ravenna, Richfield, Richmond Heights, Rittman, Rochester, Rocky River, Rootstown, Sagamore Hills, Salem, Sebring, Seven Hills, Seville, Shaker Heights, Shalersville, Sheffield, Shreve, Silver Lake, Smithville, Springfield, Solon, South Amherst, South Euclid, Spencer, Stone Creek, Strasburg, Streetsboro, Strongsville, Stow, Struthers, Suffield, Sugarcreek, Tallmadge, Timberlake, Twinsburg, Uniontown, Uhrichsville, University Heights, Vermillion, Vienna, Wadsworth, Waite Hill, Warren, Warrensville Heights, Washingtonville, Waynesburg, Wellington, Westfield Center, Westlake, West Farmington, West Salem, Wickliffe, Wilmot, Willow Crest, Willoughby, Willowick, Windham, Wooster, Yankee Lake, Youngstown, Zoar, Ohio and their surrounding areas - private investigator - detective agency servicing Carroll, Columbiana, Cuyahoga, Geauga, Harrison, Holmes, Jefferson, Lake, Lorain, Mahoning, Medina, Portage, Stark, Summit, Trumbull, Tuscarawas and Wayne County, Ohio.