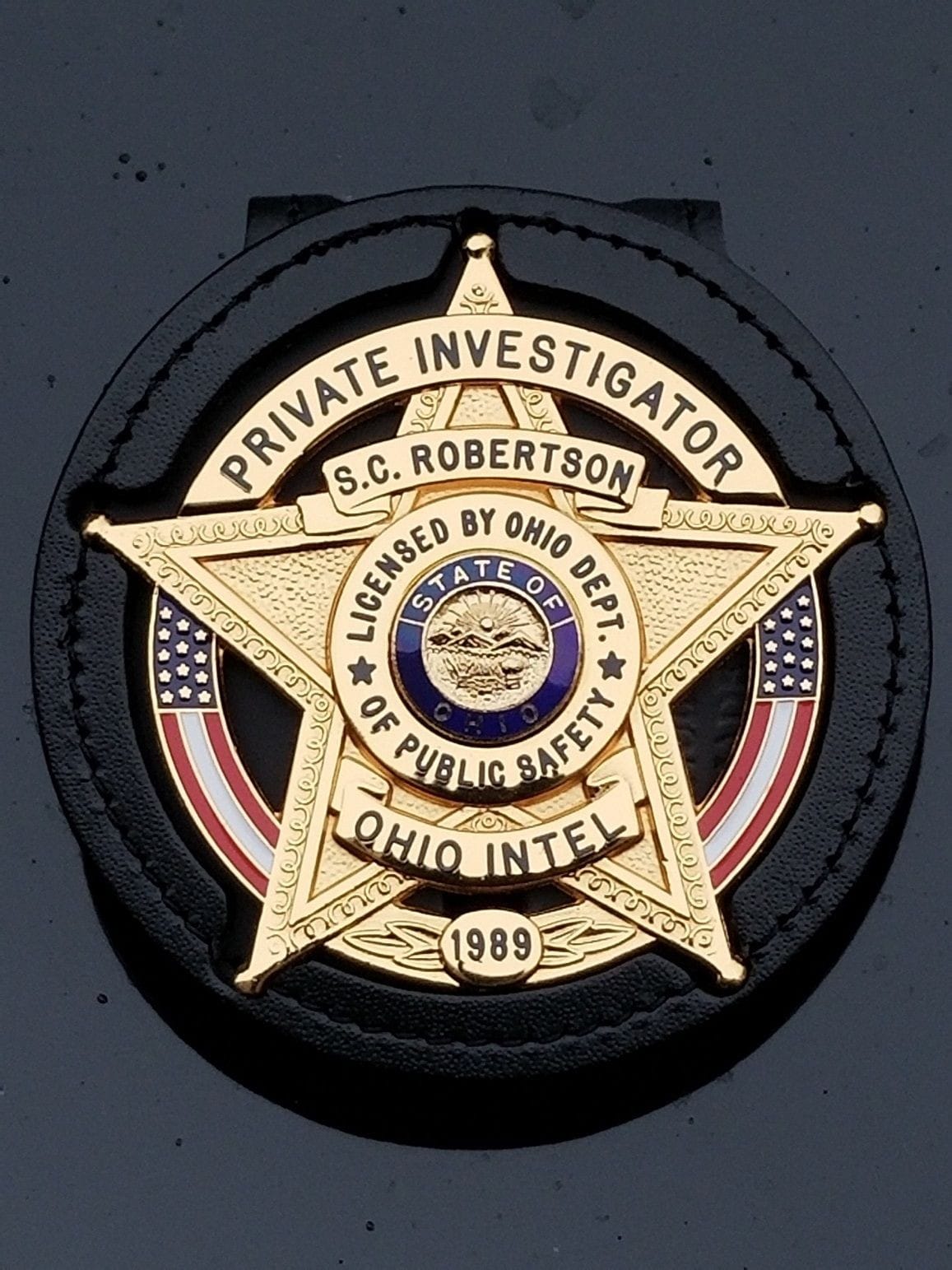 Marital Infidelity - Cheating Spouse Investigation - Northeastern Ohio
Scott C. Robertson, a Private Investigator in northeastern Ohio has been providing investigative services regarding marital infidelity - cheating spouse investigation since 1989. Scott has also served as a deputy sheriff and a police officer in the State of Ohio.
Surveillance - Physical Observations and Documentation :
Surveillance
is conducted for the purpose of observing and documenting the activity and behavior of the person in question - the spouse, and to identify and document vehicles and persons with whom they are observed making contact with. Each individual assignment usually has its own specific objectives that can be explained to the investigator during a free telephone consultation.
A preliminary
background investigation
may be conducted on a suspect in the marital infidelity case, or on known persons of interest.
Clients are provided with a written investigative report, and any evidence that has been obtained upon completion of the investigation.
On occasion, a
child custody
issue may present a concern when investigating an extramarital affair.
Possible Indicators of an Extramarital Affair - Cheating Spouse:
Your spouse may make changes in their daily routine and their work schedule which causes a decrease in the amount of time spent with you, and your family. They may begin to lose interest and enthusiasm in family gatherings, and social and recreational events that you usually attend together. A cheating spouse may attempt to discourage you from attending work related - family functions with them.
They may become increasingly discreet, and vague when speaking on the telephone in your presence, and frequently delete their telephone call history, develop frequent text messaging habits, or purchase a new cellular telephone without your knowledge. Your telephone billing account may reflect unexplained tolls, or unfamiliar telephone numbers which are being called, or that are being received.
Their interest in intimacy (with you) may decrease, or they may make excuses for its infrequency. Cheating spouses often take showers immediately after arriving at home.
They may develop a new and unusual interest in their physical appearance; a change in hair style, clothing fashion - style, and wear excessive fragrance, or new jewelry. They can establish an increased interest in physical fitness, and new and unexpected exercise routines.
Internet social networking and chat rooms are two other red flag indicators that reflect a potential for, or the possibility of an extramarital affair. You may notice an increase in your spouse's internet usage. They may add password protection to their computer account, or restrict access to the computer from other family members.
Looking for Evidence of an Extramarital Affair:
Look for suspicious items in their vehicle such as unfamiliar strands of hair, traces or smears of lipstick and makeup, condoms, travel notions and a change of clothing, suspicious notes, written phone numbers, receipts from restaurants, retail stores, gas stations, etc, or information regarding hotels, night clubs, female revue bars and late night lounges that you are not familiar with. Check to see if the seats in the vehicle have been readjusted to positions which are not suitable for you and other family members.
Review your banking statements to see if there have been any suspicious withdrawals from your bank accounts. Look for canceled checks payable to cash. Pay close attention to your financial statements and ATM withdrawals from joint accounts. Determine if there are any large or unexplained withdrawals and take into consideration the date, time, location and amount of each withdrawal.
Check your spouse's immediate daily belongings; vehicle, overcoat, clothing pockets, briefcase, handbag, wallet, etc. where you may possibly find sales receipts and other information.
Review all banking statements and look for any unusual charges made at businesses that you are not familiar with and have not patronized.
Call today for a Free Telephone Consultation regarding your particular case.
330-268-8080
All inquiries are legally privileged and confidential.
Private Investigator northeast Ohio private detective service area for marital infidelity, cheating spouse investigation includes the following Ohio cities, Akron, Barberton, Bath, Boston Heights, Brimfield, Copley, Conventry, Cuyahoga Falls, Fairlawn, Green, Hudson, Lakemore, Manchester, Mogadore, Munroe Falls, Penninsula, Richfield, Sagamore Hills, Stow, Silver Lake, Springfield, Suffield, Tallmadge, Twinsburg, Alliance, Brewster, Canton, East Sparta, Greentown, Hartville, Louisville, Magnolia, Massillon, Minerva, Navarre, North Canton, Robertsville, Uniontown, Waynesburg, Wilmot, Bay Village, Beachwood, Bedford, Berea, Brecksville, Broadview Heights, Brooklyn, Brookpark, Cleveland, Euclid, Fairview Park, Garfield Heights, Highland Heights, Independence, Lakewood, Lyndhurst, Maple Heights, Mayfield Heights, Middleburg Heights, North Olmsted, North Royalton, North Randall, Parma, Pepper Pike, Richmond Heights, Rocky River, Seven Hills, South Euclid, Shaker Heights, Solon, Strongsville, University Heights, Warrensville Heights, Westlake, Amherst, Avon, Elyria, Grafton, Kipton, LaGrange, Lorain, North Ridgeville, Oberlin, Rochester, Sheffield, South Amherst, Vermillion, Wellington, Atwater, Brady Lake, Brimfield, Charlestown, Deerfield, Edinburg, Franklin, Freedom, Garrettsville, Hiram, Kent, Mantua, Mogadore, Nelson, Palmyra, Ravenna, Rootstown, Shalersville, Streetsboro, Suffield, Windham, Briarwood, Brunswick, Chippewa Lake, Gloria Glens Park, Lodi, Medina, Seville, Spencer, Wadsworth, Westfield Center, Eastlake, Fairport Harbor, Grand River, Kirtland, Lakeline, Madison, Mentor, Mentor on the Lake, North Perry, Painesville, Perry, Timberlake, Waite Hill, Wickliffe, Willoughby, Willowick, Baltic, Barnhill, Bolivar, Dennison, Dover, Gnadenhutten, Midvale, Mineral City, Newcomerstown, New Philadelphia, Parral, Port Washington, Strasburg, Stone Creek, Sugarcreek, Urichsville, Zoar, Bazetta, Bolindale, Braceville, Center World, Champion Heights, Churchill, Cortland, Girard, Howland, Hubbard, Lordstown, McDonald, McKinley Heights, Mineral Ridge, Newton Falls, Niles, Leavittsburg, Orangeville, Vienna, Warren, West Farmington, Yankee Lake, Apple Creek, Burbank, Congress, Creston, Dalton, Doylestown, Fredricksburg, Marshalville, Mount Eaton, Norton, Orrville, Rittman, Shreve, Smithville, West Salem, Wooster, Austintown, Beloit, Boardman, Campbell, Canfield, Craig Beach, Lowellville, New Middleton, North Lima, Poland, Salem, Sebring, Struthers, Washingtonville, Willow Crest, Youngstown, Ohio and surrounding areas, and servicing the following Ohio Counties; Carroll, Columbiana, Cuyahoga, Geauga, Harrison, Holmes, Jefferson, Lake, Lorain, Mahoning, Medina, Portage, Stark, Summit, Trumbull, Tuscarawas and Wayne County, Ohio.